2015 Diamond Retailer Summit - Baltimore: Doing Business Better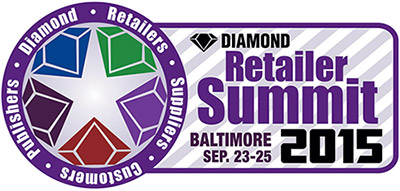 Retailers can register right now by using the registration link accessible via the gold top bar running along the top of the Diamond Retailer Services Website or by clicking here.


Registration is only $65 per person, to be invoiced to your Diamond or Alliance account, with a limit of four attendees per retailer account.

The host site for this year's Summit will be at the Baltimore Convention Center in our home town - Baltimore.
Why should you come? Let us count the ways. But here are some reasons:
Summit attendees will receive VIP passes to the Baltimore Comic-Con show Friday, Saturday, and Sunday. This means you can enter the show floor at 11am on Friday, before opening to the public at 1pm, as well as receive all the goodies VIP pass-holders get. What will you get!?
The 2015 Baltimore Comic Con Yearbook, featuring Mouse Guard
2 Show Variants (books TBD)
Free admission to Geppi's Entertainment Museum Wednesday, September 23 - Sunday, September 27

To check out and book discounted hotel rooms, click here.
Final registration is due by September 1st, 2015. You may make changes to registration up until that point.

Note: Cancel on or before September 9th and you will receive a full registration fee credit. Cancellations made after that date and/or "no shows" the day of the event will be charged the full registration fee. Walk-in registration the day of the event is $85.00 per attendee.
Retailers can visit the Retailer Summit website for more information and look for news and updates in Diamond Daily and Alliance Alert in the weeks leading up to the event.