The Retailer Summit is your chance to meet with all aspects of the comic book specialty market: fellow retailers, company leaders, publisher and supplier representatives, Diamond personnel and more! So, what's happening at the 2016 Summit?
Wednesday August 31: Join us for a baseball game! The Baltimore Orioles are playing the Toronto Blue Jays at 7:05pm. Before that, everyone is welcome to join us for a kick-off happy hour opening reception at Geppi's Entertainment Museum (GEM), whether or not you continue on to Oriole Park at Camden Yards!
Thursday September 1: A full day of Summit activities including Sponsor Presentations/Panels, Retailer Workshops, and Exhibit Hall hours. Breakfast, lunch, and dinner provided for all attendees! During dinner you'll hear exciting announcements from Sponsors and the winners of Diamond's Fall 2016 Retail Best Practices Awards will be announced!
What's the Exhibit Hall? That's where you'll have a chance to meet and talk with publishers and suppliers in an intimate setting for over three hours. You will have the freedom to meet with and talk to whichever industry partners you wish!
Friday September 2: Enjoy Breakfast and take part in our Dialogue with Diamond Q&A session. The Baltimore Comic-Con exhibit hall will open at 11:00 am to 1:00 pm exclusively for retailers to visit with any attending suppliers. The full fun of Baltimore Comic-Con begins at 1pm! If you are a ComicSuite user - the User's conference is also Friday from 2-5pm. The event ends Friday night with a Comics Industry Karaoke Hour!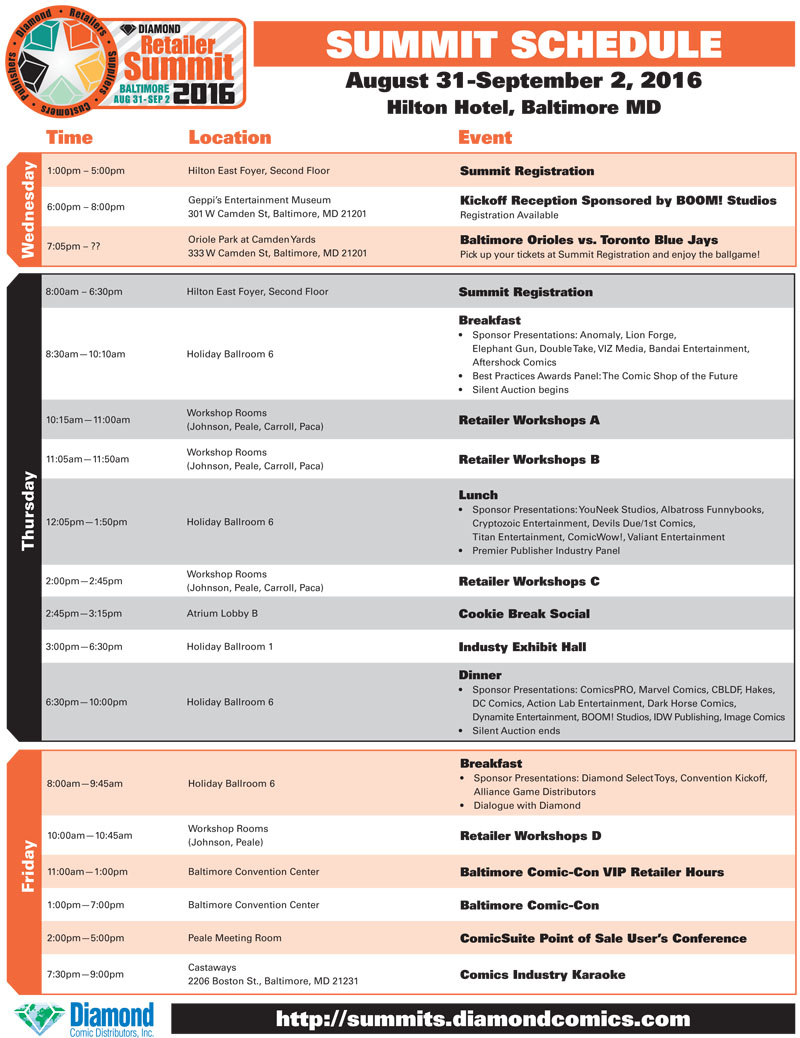 * Schedule subject to change and updates.