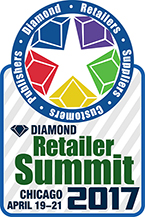 10 Reasons to Attend the 2017 Chicago Retailer Summit!
10. THE WINDY CITY! $80 not only gets you everything the Summit has to offer, it also means you will have a reason to be in America's Windy City for a few days.

9. BEST PRACTICES AWARDS! Four categories are going to be awarded in the Diamond Retail Best Practice Awards (BPAs). Get the recognition your shop deserves!

8. PROFIT FROM DIAMOND'S SUMMIT SALE LIST. Get first dibs on sizzling deals!

7. BID ON HOT AUCTION ITEMS. Dozens of rare and valuable items will be auctioned off to benefit CBLDF, The Hero Initiative, and the Center for Cartoon Studies.
6. HOW CAN DIAMOND REALLY HELP ME? Hear more tips and tricks on how Diamond tools can help you operate your business smoother than ever!

5. GET YOUR BUSINESS IN FOCUS. The Summit Interactive Focus Groups feature smaller table discussions with key suppliers, allowing you to give and take more substantive feedback. Additionally, Supplier Presentations during meals will also get you up to speed on everything current their companies have to offer.

4. GET INFORMED AND ENTERTAINED IN OUR RETAILING WORKSHOPS. Featuring tips and advice from publishers, retailers and Diamond staff alike - there is something for everyone in one of our nine workshops this year! We know you will something new and be inspired!

3. CHECK OUT C2E2! The show floor will be open Friday morning just for retailers.
2. FREEBIES! Did we mention the freebies? The retailer variants, the exclusive items, and more -- they practically pay for the trip!

And the #1 Reason:

1. TALK SHOP WITH YOUR PEERS! Your fellow retailers, supplier reps, and Diamond personnel will be on hand to talk about all the opportunities and challenges in front of us!

REGISTER BY FRIDAY, APRIL 7!