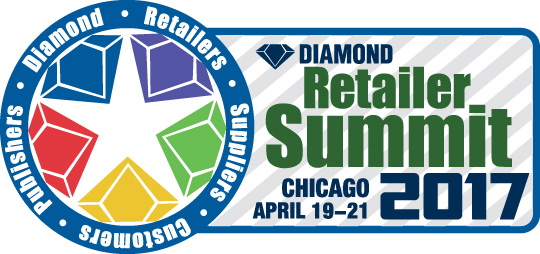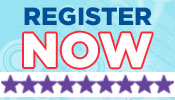 On the fence? Don't know much about the Retailer Summit? We spoke with Diamond Events Manager Maryanne Marlowe about why this year's Retailer Summit is a do-not-miss event!
***
What is the Diamond Retailer Summit?
Each year, comic book specialty market decision makers from around the world come together at the Summit. This highly-anticipated three day event provides them with the opportunity to experience educational workshops, share best practices, and learn about new publishing projects and upcoming merchandise. And it's more than that: It's a fun event to kick back and hang out with other comic shop retailers and talk shop with someone who has the same passion for the business as you!

Why should retailers go? What's new for this year?

Well, there's a lot of info and news to take away from the publishers and from other retailers. Besides, it's always fun to meet up, hang out, and learn. There will be an opening reception (TBA) on Wednesday, and Thursday will feature 9 workshops for you to chose from, and intimate focus groups with publishers. Friday after breakfast you have VIP access to the C2E2 show floor!
Plus, of course, the giveaways! Sponsoring publishers and vendors will give away variants and other goodies throughout the show and Diamond will be shipping a valuable Summit Thank You Pack after the event. The giveaways alone undeniably make the trip worthwhile for retailers who can recoup a lot of their travel costs from the items given away!
Is the Summit for new retailers or retailers that have been in the business for a long while?
Both! We gear the Summit towards retailers who can benefit from new ideas and information and simultaneously assist tenured retailers in freshening their practices and recharging their businesses. Like last year, we have an expanding slate of workshop programming and there will be plenty of time in the schedule where you can talk shop with your peers - often leads to the best advice you'll get from the Summit!
This year's Diamond Retailer Summit will be held in Chicago, IL, at the McCormick Place Convention Center. It is a three-day event, April 19 through April 21, right before the opening of C2E2, with plans calling for Retailing Workshops, Interactive Focus Groups, and special panels and publisher presentations during mealtimes.
Working with Reed Promotions & C2E2, the Summit should provide sponsors with more opportunities to interact with retailers and consumers in one of the industry's top convention stops.
"We're enthusiastic to connect our Retailer Summit once again with the start of C2E2," said Diamond Director of Marketing Dan Manser. "We're motivated to make next year's Summit a top-notch affair for everyone involved, providing retailers with informative and inspiring programming, exclusive giveaways by publishers, and special access to the C2E2 show floor."
The 2017 Diamond Retailer Summit is back in Chicago!



Diamond is again partnering with ReedPOP and C2E2, which will be held right after the Summit from April 21-23. All Diamond Summit attendees will receive free C2E2 Professional 3-Day Badges, and VIP access to the show floor from 10am-12pm on Friday.
***
The Basics
Where: McCormick Center, Chicago IL
When: April 19 -21
Registration is $80 per person, to be invoiced to your Diamond or Alliance account, with a limit of four attendees per retailer account.
Register by April 3!
***


You can stay at any of the C2E2 hotels, but the Courtyard and Sheraton are the best offers for Diamond retailers at $147/night (Courtyard) or $157/night (Sheraton).
All C2E2 properties can be accessed using the dropdown menu here, and clicking "DIAMOND ATTENDEES." You must then enter password DiamondCD2017.
***

Check out the tentative schedule and be sure to check back in Diamond Daily and on the Retailer Summit website for additional information as it rolls in - including details on Summit Sponsors and meal presentations, workshops, giveaways, and more!